The Course
The 18 hole par 72 championship golf course, at 6575 yards with its full fairway irrigation system and USGA specification greens, is open all the year round. It has been designed to test all standards of golfers with. Our par 3 17th signature hole deserves a special mention, 203 yards over water to an island green.
Particular care has been taken to maintain the natural beauty of the Welcombe Hills. The planting of more than 50,000 trees and the use of lakes have helped to create areas that are ecologically friendly.
Visitors who savour the delights of the course and club appreciate that Ingon Manor is something very special. Apart from the course, further delights await around the
clubhouse with attractive courtyards and patios. A leisurely drink here on a balmy
summer's evening could be many a golfer's idea of paradise....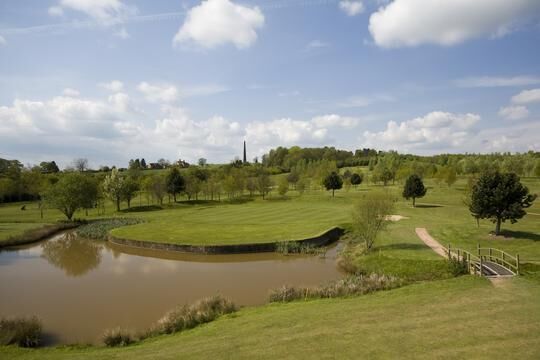 Course Update
Dear All Members
Recently couple of members have come up to me and said how bad the course is looked after. To myself this is not a good remark. 1) It does show how well the course is maintain by members. 2) How it will reflect on visitors or fellow playing partners. This needs to change, and members need to become more aware about the little things of maintain a golf course, which in turn can make a lot of difference. Little things such as making sure the bunkers are raked correctly, pitch marks are repaired immediately to reduce the risk of damage to the greens. Below is a diagram showing how the pitch mark should be repaired, this also applies to bunkers which have now got brand new rakes in. These are better and more effective than the old ones.
In the Pro Shop we have now got some cheap plastic pitch Mark repairers, so when one of us ask if you got a pitch mark repairer, there's no excuse you not having one on you. While the green staff are working round the clock to get your course in great shape. Play your part in maintaining it.
Kind Regards – Nick Gardener Assistant Professional
Did you know?
The average number of ball marks
Made on a Green per round is 8 Per Golfer.
Assuming only 130 rounds are played each day on your course alone, your greens receive 1,040 impressions daily.
That's 31,000 per month or more than 374,000 per year.
If you repair a pitch mark straight away. Its fully repair in 24 Hours. But if you leave it makes the greens bobbly and takes three weeks to repair!
Are you wondering how to make a putt under these conditions?
Repair your Pitch marks!

Things to look out for in the future . . . . . .
As many of you might of notice, we have recently have had a flag system change from the old Red, Yellow and White flags. This has been changed to the small mini white flags which will be placed in corresponding place on the flagstick to where abouts the flag is positioned. The front nine flags are all red and the back nine are yellow.
Mini White Corresponding Positions
Mini White Flag positioned at the bottom means that the flag is positioned towards the

Front

of the Green.
Mini White Flag positioned in the middle means that the flag is positioned towards the

Middle

of the Green.
Mini White Flag positioned at the top means that the flag is positioned towards the

Back

of the Green.
We do apologise for the change from the old flag system before. This has been done for many reasons 1) Easy versatility of being able to change the hole and quickly adapted the mini white flag to its new positioned, before we would have to bring three different colours out to see which one would be put on. 2) We are looking to get new flag sticks which would be thicker stems so that they would stay in windy conditions and not pop out. 3) We are having some new flags embroidered with Ingon Manor logo on. This is why we have stuck with two colours for each particular nine as describe to you above otherwise we would have to buy in three times the amount.
I do hope you will support this change as it will take time to settle in but I do believe this is a sensible move. We did go through a period where the flags were positioned the wrong but we have taken action to change this and hope that the consistency will remind the same from now on.
Thank you for your co-operation.
14th Bunkers Re-turf
The boys on the course have been in action getting on with those winter jobs before the season comes. When you next go out and play, you will see that both the bunkers passed the bell, have now been covered with grass. This is great to see and has made a massive improvement already. This re-turf will also carry onto the 16th pond to cover outside and make this look neat and tidy.
New Metal Locking flag holes have arrived. This should improve flags staying in holes better. Just weighting on heavy thicker flags. plus changing the flag system for mini flag which will take over the old yellow, red, white flags that we have put in place at the moment.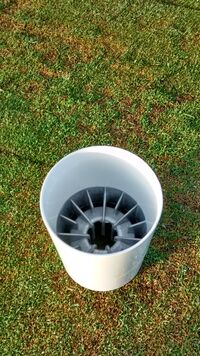 As some of you may have seen. Work on the 14th to 15th Tee box has already started. As shown in the picture below. A foot deep trench which runs towards the 15th Tee box has been dug. Also plans for the 15th green to the 16th Tee box is to be done shortly after completion of the one below.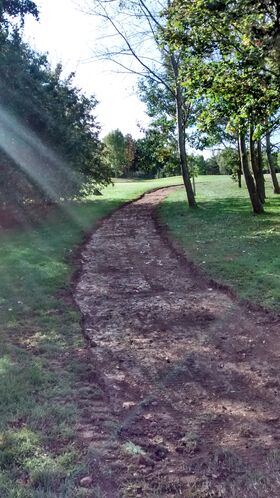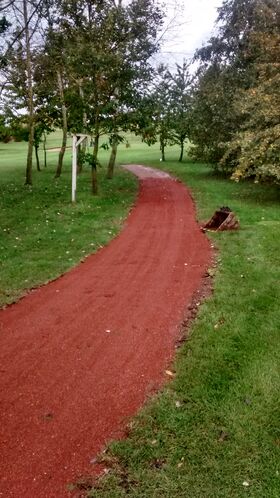 . Below are the new fairway marker post in place on the 9th Hole. These will be place near to the fairway as possible, where they can be seen. We are looking to do both sides. This being that if you go down one side 50% likely it's not going to be your side that you are on, so both sides are being done. The markers that we are going to be doing, along with what colour will represent each yardage are, RED = 100, YELLOW = 150, BLUE = 200 (Only placed on longer par 4's/5's).
This winter I been looking up winter projects which I can do myself. Below is a picture of a 100 yard disc marker. Taken from the 15th fairway. Here we can see that over time that the marker has faded away and grass has grown up and around the markers. My plan is simple to replace those with a kind of stepping stone, which in diameter would be bigger. Roughly 300mm wide. Plus with the added red paint which would be weather proof, with the number of the distance on top finished off with an inch of brick dust around them. A demo should hopefully be put out on 18th hole or 15th hole, so please look out for it and report back to Pro shop for your opinions.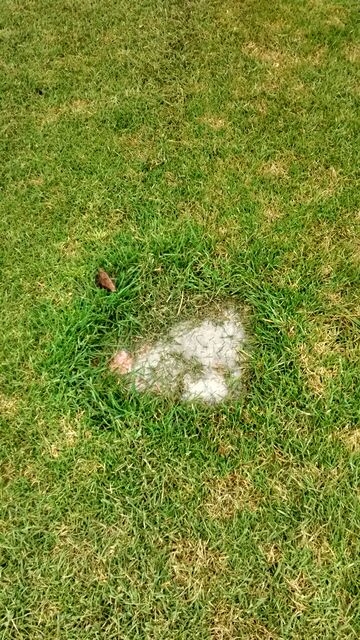 Below is a small form which we would appreciate for you to give your comments on the fairway markers. This will gather data so that we can make are next decision more valuable to are members and golf club.
Course Suggestion Form
Below is are course suggestion Forum. Here you can suggest your own ideas on how the course could be improved. Just Fill in the spaces below, gives us your Suggestion then a little reason why this would benefit the course in the future.